Christmas is celebrated in so many ways all around the world and I absolutely love hearing about the many different traditions incorporated into a Christmas celebration. While I might be a 'go with the flow' kind of girl when it comes to Christmas celebrations, there are some traditions that just HAVE to be done around Christmas and as a Wiccan at Yule, it is heart warming to see so many Pagan rooted celebrations becoming mainstream. While I may not be that into Christmas as others (I am not the Grinch, I promise), I do make a concerted effort to give my children the best possible Christmas experience, no matter how many Santa meet and greets I sit through. Here are my traditions (old and new) that I stand by, year after year.
A Christmas Tree
Without fail, the tree will be erected every year around the first week of December and while I try my best to make this a family affair, the children normally get bored and I am left hanging the decorations. I am not a fan of the hugely popular, conventional green tree and every year we have either a white or black tree with a hint of colour. I particularly loved last years tree which was black with red decorations, sadly that tree saw the end of its days in a box beneath my daughter's bed and on the eve of the trees decoration, we were left web searching for inexpensive tree options.
Growing up in South Africa, I have not really had the opportunity to have a real tree and so we decided that instead of my usual black (RIP) tree, we would get a real one! You cannot imagine my excitement when we wheeled that gorgeous mid size Norway Spruce to the car in anticipation for our most realistic tree yet, if only someone had told me about the mess! As gorgeous as it is, it is most impractical; takes up most of the living room floor; makes more mess than the children combined and is a pain to decorate! I think next year I am canning a tree altogether and am going to decorate a skeleton instead…
Christmas ADVENT calendars
Would you believe that I have never had a beauty advent calendar? I am dying inside a little for one of those and so, next year I will advantage of some Black Friday sales to get myself one. That said, every year the children get a chocolate advent calendar as we used to as children ourselves and every day, that little window is opened and the chocolate greedily consumed without needing permission for chocolate at 5am!
My youngest, Dakota (aged 6) absolutely loves advent calendars and she decided to do a review on the one she picked out this year:
Letters from Santa Claus
I really love having these made for the girls, I am not very crafty or creative myself and I find them so easy to find and have made using a small business / eBay seller. This year, the letters from Father Christmas came at the beginning of December and included the 'NICE' list certificates. While this gesture is not lost on my 6 year old who is absolutely beside herself that Santa took the time to write her a letter, my almost 12 year old nearly died of embarrassment… I guess you cannot keep them young forever.
Christmas Eve Boxes
When I arrived in the UK, I was quickly made aware of this tradition that I didn't know existed. While most people take the time and the creative expertise to put together these boxes with their own bare hands, I like to enlist the help of the experts and this year, like the years before, I have had them made for me by the lovely team over at Pixie Dust Party Hampers & Gifts
There is something exciting and magical about having a box to open on Christmas eve (if you don't hold your main Christmas celebrations at that time instead). It is like the pre gift – You know exactly what is going to be in there but you wait in anticipation anyway because it's something fun to open! The girls have grown accustomed to this fairly new tradition of ours, looking forward to receiving the exciting goodies inside. This year, that consists of pyjamas, some treats, a DVD, hot chocolate and of course, reindeer food!
Christmas Stockings
Waking up to a filled school sock at the end of the bed quickly became a Christmas tradition I made sure was carried through to my own children's silly season memories. That said, no longer are old school socks used and I have taken to forgoing the mandatory apple at the bottom of the sock. Instead, it has become an exciting and fun filled experience for me watching the girls ransack their stockings on Christmas morning and express their joy for the little odds and sods I have spent time and energy carefully picking out. I absolutely LOVE going stocking filler shopping and you can pick up some really great, inexpensive items that kids will adore. Note to self, do NOT take children into Poundland after stocking shopping done… you know, duplication problems. Their stockings will always have colouring pencils and a notepad, hair accessories and a bath goodie or two, the rest of the items are based on what I can find at the time.
Christmas Pyjamas
Briefly mentioned under the Christmas eve boxes, we have taken to a tradition that we never intended on being a tradition in the first place and seem to get new matching pyjamas right around Christmas Eve so that we match and settle down for the Christmas box reveal. This year the boxes include the pyjamas but if not, I like to buy pyjamas for myself and the girls (Jp drew the line at wearing a unicorn). Of course, being a little unconventional means I don't usually opt for your standard matchy-matchy Christmas themed pyjamas, last year I opted for unicorn onesies and we had the best time in our snug little outfits.
Jack Skellington
I am certain that by now it is no secret about the love affair I have with old Jack (Shhhh, Sally doesn't know) and it is not Christmas until Jack Skellington has donned a faux beard and Santa suit dishing out Christmas nightmares to the children of the world. Fortunately, my children feel the same way and so shortly after receiving their Christmas boxes and making a mug of hot chocolate, Jack will serenade us to sleep in preparation of St Nick. This is my favourite and ultimate Christmas movie but don't worry, he comes out on Halloween as well…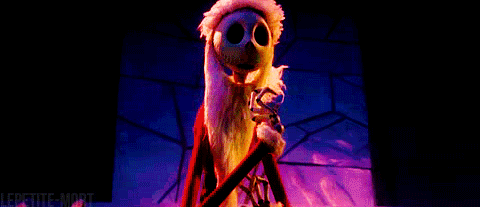 CHRISTMAS DAY!!
I am certain that I am no different to many when I say that I am up from as early as 5am, the girls are dying to open the pressies beneath the tree and mum and dad are dying for a cup of coffee. We make our way down, the kids open their gifts, we have a breakfast and generally make our way back to bed for a cheeky lie in before attempting to get up and start the cooking marathon that it takes to offer up a full Christmas dinner. That said, we have decided that this year we don't actually fancy a turkey or a big dinner and the meal request has been set in concrete – Macaroni Cheese (my speciality) it is!
XXX
I think it is important to remember that traditions are fluid and you can amend them and update them as and when you see fit. Just because we have a big roast every year, does not mean we have to have one this year, ultimately Christmas is about being thankful for what we do have (whether that be turkey or mac n cheese) and being together, happy and alive. So I may not be the most traditional Christmas mum, maybe I do get a little bit 'BAH HUMBUG' about things but being human is just another gift to be grateful for at Christmas.
I would love to hear about your traditions or any tweaks you may have to traditions I follow, let me know **
Shevy
Xx